TCP/IP SIP Colour Video Intercom System (VoIP)
Colour video intercom systems based on SIP (Session Initiation Protocol) use the same technology as Voice over IP (VoIP) calls.  This allows a SIP intercom system to interface with the VoIP telephone network including business IP PBX systems and home based IP PBX systems.  An IP PBX or SIP Server connects different devices together like a telephone exchange for SIP devices but SIP as a protocol can work as peer to peer (P2P) enabling devices using SIP to talk to each other directly.
SIP also allows intercom components to work with Cloud solutions providing enhanced feature sets and using the internet for networking rather than replacing or installing cabling.
So why should you consider a SIP based system?
SIP is a protocol for connecting devices which allows devices from different vendors to work together.  There are many other intercom systems that use IP to connect but unless there is an App or an intermediate device they generally don't connect to other devices.
Within the SIP intercom range there are subtle differences.  Some systems will make calls between devices in the same range without an IP PBX.  These use peer to peer SIP and rely on the devices being on the same sub-network.  Others must register to an IP PBX or proxy to make calls in the traditional VoIP method. Others still provide local SIP Server within the door station with all other devices registering to that server.
SIP provides a standards based way of interconnecting different devices including telephones, tablets, some alarm systems, PC systems, some cctv cameras etc.
You should consider SIP based systems if you have an IP PBX and want to receive calls on your business phones or need to connect to another device now or in the future.  Of course you may just want an intercom that has some additional features or like the look of the ones on offer.
SIP devices can also connect to some home automation systems and alarm systems that have built in SIP proxies or use SIP.
There are a number of free and subscription services that allow your SIP intercom to make a video call to an App on your mobile.  Please ask us how if you decide you are interested in this feature.
Recent improvements to Cloud solutions offered by several manufacturers are exciting and offering enhanced capability to customers and property managers.  Both 2N and now Akuvox are offering cloud services where you purchase a door station and monitor.  This allows for centralised management as well as integration with Smartphones.  With Akuvox SmartPlus you also can send temporary access to visitors (requires the appropriate door station) within scheduled time and date for service providers, family members, or for short term rental properties like Air BNB or similar.
SIP Video Intercom Components
Door Stations
Outdoor stations or door phones are located at the entrance to a property or area that requires permission to access.  They may be a simple door bell style door station where a call is established to a person who can see and speak to the caller and allow access.  Other systems may include keypads for calling different locations or allowing access through a pincode, RFID card readers, fingerprint reader, or bluetooth module to allow access without making a call.  SIP door stations also come in video and audio only varieties with the price proportionate to the features. Generally these devices stream video (Camera devices) for monitoring on other systems such as Network Video Recorders.
Akuvox
Akuvox have a range of door stations and monitors that use SIP protocol to connect.  These intercoms vary in size and functionality from a single button audio door station to full touch screen apartment based intercoms with built in display functionality, body temperature meausurement for hands free access control, or face recoginition for hands free access control.
Akuvox have a range of monitors from 7″ to 10″ touch screens.  Variations in capability and operating systems ensure there is a model that will suit most projects. The Android versions have extra capability to install Android Apps where centralising screens is desired. 
Akuvox SmartPlus is a service that allows you to manage your system via a cloud service and also interconnect devices and Apps for calling and access control.  SmartPlus requires a one time license purchased with an intercom system (door station and monitor). Please contact us to discuss SmartPlus for your intercom system.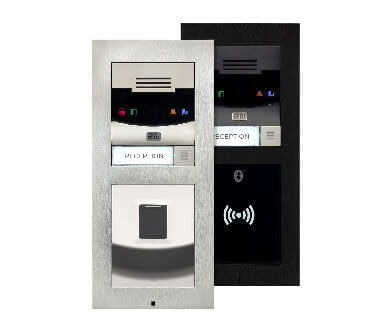 2N
The 2N® range of door stations are the top of the market for build, features and integration.
The 2 shown are from the modular Verso range with available modules for RFID card readers, fingerprint sensor, buttons, keypad (as shown), bluetooth sensor etc.
These devices will generally work within most systems due to an enhanced configurability. They also work with the 2N Mobile service enabling connection to mobile devices with the 2N Mobile App (a high quality subscription service). 
Other devices from 2N include the indestructable 2N Ip Force door stations, stylish 2N IP Solo, cost effective 2N IP Base, audio only 2N IP Uni, and the 2N IP Vario.  The 2N range also includes an Android touch screen (2N IP Touch).
2N offer a cloud based service for interconnecting devices and managing your system.  The 2N service is called My2N and is subscription based although it is free for connecting 2N door stations and monitors.  This allows for fully functioning intercom systems via the internet rather than having to install or replace cabling for intercom.  Contact us to find out more about My2N.
Fanvil
Fanvil offer a range of high end multifeatured door stations with a high level of compatibility with other systems. They are of rugged manufacture and best suited to industrial or business applications or residential where a high level of functionality and/or a tough exterior is required.
Available in video and audio only models for indoor and outdoors with an impressive feature set.
More Info
Grandstream
The Grandstream door station is a highly featured SIP device that works well with Grandstream multimedia phones and the Grandstream display panel but also has enough configuration options to work with almost anything.
Grandstream are renown for being innovative with a range of SIP based devices such as IP PBX appliances, telephones, CCTV cameras and recorders, routers, WiFi routers etc.
More Info
We have other devices from the above manufacturers including the 2N® IP Force, 2N® IP Base, 2N ® IP Solo, 2N ® IP Safety, VIP Vision*,  and Escene. 
*VIP Vision intercoms also support SIP for signalling and are not mentioned above as you require a VIP Vision touch screen to work with the VIP Vision door station.  They are not recommended for integration in to existing SIP infrastructure but do work very well as standalone intercom systems. They have a free smartphone App for intercom calls (DMSS) that also works with the VIP Vision / Watchguard / Securview CCTV systems.
Indoor Panels / Phones / Receiving Units
Depending on the system the indoor panel or phone maybe a dedicated touch panel, a telephone including multimedia phones, a tablet or smart phone.  Extending the system outside the local network requires an IP PBX with external access (so that mobile devices can register) or an account with a VoIP provider.  Note that not all VoIP providers support video so you may find you only have audio in this case.
As discussed previously, not all SIP intercom systems require an IP PBX to call between devices on the same network.  This is generally limited to devices from the same vendor or IP calls from the door station to the indoor panels – in this case the call is to the IP address of the indoor device. 
Systems with Cloud services generally use the cloud with many added benefits such as online management and smartphone calls.
We can assist you with selection of SIP based intercom equipment so please contact us for advice.
Akuvox
Akuvox have a range of SIP touchscreens suitable for most SIP based intercoms.  As with all these products they work best with door stations of the same brand allowing the system to be almost plug and play and all features available.  With Akuvox touch screens you can call other touch screens within the same installation or on the same SIP server or cloud account.  They have an integrated alarm system as well for connecting hard wired sensors and can also incorporate a standard doorbell.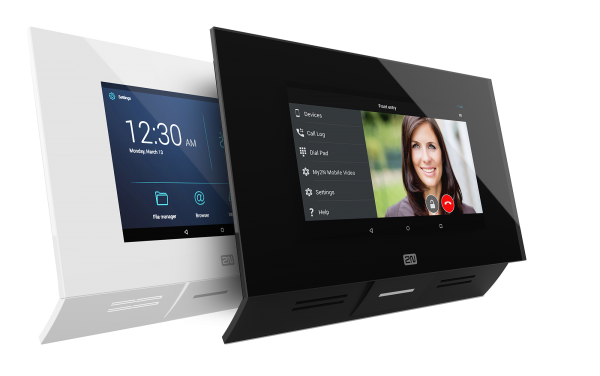 2N
The 2N Indoor Touch is an Android based 7 inch touch screen designed to a very high quality and comes in poe and WiFi versions. The 2N Indoor Touch has high fidelity sound and excellent video quality and works in peer to peer mode with the 2N Door Stations. With the appropriate licence you can add other software to the panel such as Home Automation to consolidate other functions to the same panel.
2N also have lower range touch screens for video and also an oudio only version for where video is not required.  
More Info
Grandstream
Grandstream has a range of multi-media phones and also a touch panel for use with intercoms. The Grandstream Multimedia phones are available in 2 versions – the GXV3370 and GXV3380 full touch screen or the GSC3570 7″ display panel.  These devices should work well with all SIP based door stations.  The have multiple SIP line accounts for flexibility.
Grandstream also provide a range of SIP IP PBX devices for the full solution.
More Info
There is a large range of possible SIP intercom systems and configurations that are available for any installation scenario.  Please contact us for assistance with design and selection of a system that best suits your needs.