WiFi Doorbell to Smartphone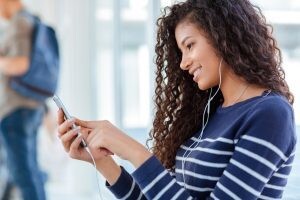 As connectivity to the home improves via new internet connection technology and smart phones become ubiquitous it is a natural extension to connect to your home through your smart phone.  A WiFi door bell that connects to your smart phone sounds easy and cost effective – Early adopters of technology have been connected for some time and now this idea has started to become mainstream.
It all seems simple enough: you have a WiFi router in your home with high speed internet connection and have a smart phone with decent broadband which also has WiFi.  While at home the phone is on the same WiFi access point (LAN) making sharing data easy and fast.  When away from home the data uses the home internet connection (WAN) to reach your smart phone via the phone broadband connection.  Simple, right?
There are a number of technology hurdles with the scenario above:
Network switching between WiFi local LAN and WAN (smart phone on broadband via mobile carrier) is problematic
Internet uplink connection speeds are usually much lower than downlink speeds restricting the amount of data that can use the uplink at at any time.
Connection to local WiFi (see below) may not occur until the door station wakes up and negotiates an IP address (DHCP) which delays the connection.  This is prevalent on battery powered door stations as they preserve power by turning off WiFi.
The first issue is usually resolved by making all connections between the smart device (door bell in this instance) via a remote server on the internet.  The smart phone is registered to the same server and the data is pushed from the door bell to the smart phone whenever a call is made, even when the phone is connected to WiFi.  This greatly simplifies the networking but invokes a new suite of issues:
The system uses 2 internet connections to provide the connection – home broadband and mobile broadband. This can result in large data use charges especially with video.
The time to establish the call and quality of the call are dependent on the round trip distance and network congestion – door bell via WiFi to router, router via restricted uplink to internet, path from home ISP to mobile provider, downlink from mobile provider via multiple phone towers to moving device.
There is one more impediment to a good connection which will effect any device connected via WiFi: WiFi network quality.  The door bell location will be on the outside of the home with a solid wall between it and the internal WiFi network.  The door bell will most likely be battery operated so no cables are required (if you have to run power then why would you not use an ethernet connection as well with power over ethernet?).  The low power consumption requirements will limit the transmit power of the inbuilt WiFi radio and therefore reduce the speed and reliability of the WiFi connection.  The remedy for this issue is a WiFi extender close to the entry with the door bell.
To conserve power the (battery powered) door bell will wake up on button press or detection of a visitor, connect to the WiFi router most probably via DHCP which may take some time to allocate an IP address, connect to the remote server and begin data transfer, while playing the ring tone to the visitor via the inbuilt speaker so they know the call is proceeding.   The time taken for these steps may be 20 seconds and meanwhile the call has not made it to the smart phone.  Allow another 5-10 seconds assuming the smart phone is at hand and the user is available for the call to be answered.  These times are average and systems will vary.  The result will depend on the patience of the visitor – anecdotes from customers suggest that many calls will be answered to an empty doorway as the visitor has left.
Where the system uses all WiFi components the issues with network quality or magnified.  If you live in a built up area (lots of WiFi), if you have lots of WiFi connected devices (tablets, phones, computers, gaming consoles, printers, other WiFi connected devices) or you live in a home with multi-levels or solid walls (reflections), we recommend you only look at wired solutions.  The system may work initially but will become more unreliable over time due to spectrum congestion.
In summary, while a WiFi door bell to smart phone sounds like a good and easy solution to allow remote monitoring of visitors, the end user experience may not be as expected.  These systems may be quite cost effective but are let down by power, time to connect, and call quality.  If cost is the main driver then these systems are worth trialing but please be aware that it is a case of buyer beware.  We recommend hard wiring in all instances.
We offer the ability to remotely monitor your visitors with high call quality, no battery power, and with a solid metal high quality door bell (no plastic).  Our door bells are direct connected and powered and our smart phone app will work on the local LAN as well as the WAN via a SIP server.
Our systems provide pre-video so you can see the visitor before you answer and call connection time is as quick as a phone call.
Apps work in parallel with our high quality video touch screens (required for SIP system) or standalone (non SIP).  Our SIP systems calls are standards based SIP (VoIP technology) allowing our systems to interwork with other standards based systems including IP phones, smart home installations (SIP enabled), PC, or tablet.
All our systems work with CCTV for monitoring or to record on a Network Video Recorder. Why not check out our online store to see what we have on offer.